THE SILK ROAD: ​PAMIR HIGHWAY & UZBEKISTAN

12-30 AUGUST, 2024
A 19-Day Photographic Journey with Jeremy Woodhouse 
The Pamir Mountains of Tajikistan are some of the most rugged and beautiful on Earth, soaring upward where the Himalayas, the Tien Shan and the Hindu Kush meet. 
Central Asia is a region filled with the romance of the Silk Road, yet despite documentaries and books about its conquerors (Alexander the Great, Tamerlane and Genghis Khan) and explorers (Marco Polo, Ibn Battuta, and Sven Hedin to name just three), to many people this vast swathe of the world remains an enticing and mysterious blank on the map. This is part of its appeal. Lacking the mass tourism found in many parts of Asia, a journey here offers true adventure.
Join us on an unforgettable journey to the very heart of Central Asia and the Silk Road – Tajikistan and Uzbekistan. Together, we will explore its most remotes villages and captivating cities and in doing so we will travel in the footsteps of some of the world's most magnificent travelers, traders, conquerors, and explorers. 
We start the journey in the youngest capital in Central Asia – Dushanbe of Tajikistan. Traveling along the famous Pamir Highway, one of the highest roads in the world. It runs between Khorog in Tajikistan to Osh in Kyrgyzstan and zigzagging its way through the Pamir Mountains. The 23,000ft peaks earning this route the title "roof of the world". As we travel through isolated communities scattered along the Highway and beyond, we stay in welcoming homestays, immerse ourselves in a cacophony of cultures, and enjoy the unique scenery. 
Then we continue our journey in Uzbekistan visiting oasis cities of Tashkent, Khiva, Bukhara, and Samarkand – we will walk in the shadows of soaring minarets, mosaic-tiled arches, and turquoise domes. We will travel across deserts, little changed since the days of Genghis Khan, and as we go along we'll discuss the fascinating histories of the mighty khanate states and walk through their architectural legacies. We will conclude our journey in legendary Samarkand. 
We'll also look at where Tajikistan and Uzbekistan are today, and talk to locals about how the countries fared as part of the sprawling Soviet Union until 1991, not so very long ago.
This tour is fully immersive, so we'll also get up close to traditional village life in mountainous Pamir, talk to locals, prepare a meal with locals in a traditional house, dance with a local folklore band, and climb city walls for the best possible sunset view. 
​Overview Daily Itinerary
Pretour - DEP 11 AUG : Dubai, Fly Dubai 777 10PM, ARR: 11 AUG 2:55AM Dushanbe
Day 1: August 12 – Arrive Dushanbe
Day 2: August 13 – Dushanbe/Nurek/Holbuk/Kalaikhumb (370km, 7-8hrs)
Day 3: August 14 – Kalaikhumb/Khorog (250km, 6-7 hrs)
Day 4, August 15 - Khorog/Ishkoshim/Yamg (110km, 3 hrs) 
Day 5: August 16 - Yamg/Langar  (45km, 2hrs)
Day 6: August 17 - Langar/Yashikul lake/Murghab (100km, 3hrs)
Day 7: August 18 - Murghab/Karakul (250km, 4hrs)
Day 8, August 19 - Karakul/Bartang Valley/Khijez (130km, 2-3 hrs)
Day 9, August 20 - Khijez/Kulob (350km, 6-7 hrs) 
Day 10, August 22 - Kulob/Dushanbe (200km, 4 hrs)
Day 11, August 22 - Dushanbe/Tashkent (1 hr flight)
Day 12: August 23 - Tashkent/Urgench (flight, 1,5hrs)/Khiva (35km)
Day 13: August 24 - Khiva City Tour
Day 14: August 25 - Khiva/Bukhara on road
Day 15: August 26 - Bukhara City Tour
Day 16: August 27 - Bukhara/Samarkand 
Day 17: August 28 - Samarkand City Tour
Day 18, August 29 - Samarkand/Tashkent by train
Day 19: August 30 - DEP Tashkent, Fly Dubai 1942 4:00AM, ARR Dubai 6:50AM
Itinerary 
Day 1: August 12—Arrive in Dushanbe
Welcome to Tajikistan! Arrive at the airport early in the morning. Transfer to the hotel and early check-in. You can have a rest after your long flight. We will regroup again at noon to discuss the itinerary and chance to know each other while we enjoy lunch in a local restaurant. 
We start the sightseeing of the capital of Tajikistan with Navruz Palace. The building displays the best of crafts from Tajikistan in the form of plasterwork, carved wood, decoration with precious and semi-precious stones, and more. Then we drive to the local market - Mehrigon. This gives us a chance to see the different ethnic groups coming in one place, and a great opportunity for portraits. Later on, when the lights are much warmer we go to the tour of the boulevards and soviet blocks. Poets' Union has a very interesting wall for photography. Then, we visit the statue of Ismail Samani. The large monument honors the 1100th anniversary of the Samanid State, the heyday of the Tajik nation when science and arts flourished. From there we walk up to Rudaki Park, dedicated to great Persian poet Rudaki, who also lived during Samanid time in the 9th century. 
Before dinner, we will have a chance for the panoramic view of the city from above the tallest building in the capital, and then we will go to the restaurant for a welcome dinner. 
Hilton Dushanbe Hotel
The hotel is 15 minutes from central Dushanbe, with Dushanbe International Airport two kilometers away.
Day 2: August 13—Dushanbe/Nurek/Holbuk/Kalaikhumb (370km, 7-8hrs)
Today we will drive to Kalai Khumb village. En-route, we will see the Norak water reservoir that is called the Tajik Sea. The highest point of the day is Shuraba pass (2,267 m) and after a drive along Afghanistan border starts. This part will amaze you with its unique mountains – it is already Territory of the Pamir Mountains.
Over the centuries, the Pamirs have inspired the world's greatest explorers – Marco Polo, Hsuan Tsang, Mirza Muhammad Haidar. And now We also have a chance to travel here. We will drive along the natural border – Panj River. Having visited the Pamirs, many travelers called this giant mountain system the ocean of white and blue mountains.
O/N Karon Palace (B,L,D)
Hotel KARON Palace is an oasis of comfort on a small stretch of the ancient silk road.
Day 3: August 14—Kalaikhumb/Khorog (250km, 6-7 hrs)
The road follows the Panj River with Afghan villages on the other side. It passes through the Vanch region from where all trekking to Fedchenko glacier start, here mountains have very good quality marble, visible from the road. Rushan village starts the Ismaili portion of this route. Shortstop to see Vamar fortress. Near to Khorog (10 km) visit Parshinev village to see shrine Piri Shoh Nosir, museum and holy spring dedicated to Nosiry Khusrav (1004) the founder of Ismaili religion in this area. We arrive in Khorog in the late afternoon. 
The capital of Gorno-Badakshan Autonomous Oblast, Khorog is a minor town. At different times is was part of Russia, the Emirate of Bukhara, and Afghanistan. The fortress was built during the Soviet period, with Khorog being in a highly strategic location on the border with Afghanistan, but today it suffers and is one of the least developed parts of the country. The Aga Khan Foundation contributes to the bulk of the local economy. It holds the distinction of being home the second highest botanical garden in the world, at 3900m.
O/N in Hotel Lal (B,L,D)
Central and cosy, and tasteful in design, this hotel is wrapped around a garden with an apricot tree shading a sitting pavilion. There are a choice of stylish rooms, most with air-conditioning. At night the flower garden is changed into a magical little space, highly popular as a meeting point for travellers.
Day 4, August 15—Khorog/Ishkashim (110km, 3 hrs) 
Famous for its therapeutic properties, the hot mineral springs of Garm Chashma are located just 40 km from Khorog. Just a stone's throw away is the mesmerizing ruby mines of Khuhi Lal, famous for its Badakhshani rubies. The road to Ishkashim is a smooth journey. Ishkashim is a small town at the mouth of the Wakhan corridor, where the 19th century Great Game ended. Continue up the north side of the river with amazing views of the Pamirs to the left and the Hindu Kush to the right; several peaks in view are above 6,000m. We can see the view of the highest peak of Hindu-Khush – Mount Tirichmir 7690 m on Pakistan. From Ishkashim we are driving up along Panj river between Pamir and Hindu Khush ranges with many stops en-route for photography opportunities. We visit Namadgut village to see Kushan Empire ancient fortress Kah Kaha and typical Ismaili shrine Ostoni Ali –Shohi Mardon 11 c with unique beautiful wood carvings. 
After the day's interesting activities from road journeys, We will experience the warmth and values of the Tajiks first hand by spending the night in one of the local's traditional homes in the village of Yamg. Home Stay in the house of Aydar Malikmamadov in traditional Pamir house 
Pamir folklore is very specific. Pamir dance, which is famous as Eagle Dance is performed by Pamir people not only in Tajikistan but also in Afghanistan, Pakistan, and China. Men and women in pairs dance and it is very interesting to observe the simultaneous movements. The songs are performed in both Tajik and local Pamir languages. The theme of the songs include patriotism, daily life issues, and religious spiritualism, and we have the chance to photograph all the performance. 
O/N Homestay (B,L,D)
Day 5: August 16—Ishkashim/Yamg (45km, 2hrs)
After breakfast in the house, we visit a village where traditional crafts produced by locals, to see the making of musical instruments by a very humble Pamir man as he is both master and player of these instruments. It is famous all over the Islamic world and it is very specific in Badakhshan as the people here are very fond of music. If customers want, they can see how local women make Pamir rugs. We also visit the museum of Sufi Muboraki Vakhani, a famous sufi –scholar, astronomer, theologian, and poet, where some of his most famous works can be seen. 
Next, we drive up over 3000 m to Yamchun village visit Guarding the Silk Road, the ruins of the Yamchun fortress which considered the lagerst fortress by size in Whakhan valley. See the famous Wakhan corridor across in Afghanistan to see beautifull and massive view of Whakhan. Up to Yamchun river located the holy hot springs of Bibi Fatima Zahra. On the way to Langar village we have short hike to see remains of Buddhist monostry and Buddhist Stupa (IV-VII cc) in Vrang, a huge place of worship in this region,. later continue to Langar. On arrival transfer to a local Pamiri House overnight. We may climb up 300-400 m to see the largest gallery of petroglyphs, located in this area and see the valley from a wide-angle. On the way back we will visit the shrine and prayer house of Shoh Qambari Oftob the X-XI century missionary who converted people of Langar to Ismailism according oral story of people of Langar.
Overnight: Homestay (B,L,D)
Day 6: August 17—Yamg/Langar (100km, 3hrs)
After breakfast, we depart to the Eastern Pamirs – Murghab. The Eastern Pamir Region is very diffirent from the well-populated western Pamir. It is vast stony plateau with scare vegetation and is located at an altitude of 3500 -4500 meters. This phase of the journey is 270km and we pass some of the high mountain passes with the chance to see amazing Chukurak lake, Yashikul lake, Bulunkul Lake, Tuzkul lake and Sasyqkul lake. After driving along Panj and Pamir rivers in Wakhan valey we join the second highest road M40 or travellers formly called Pamir Highway.This is still part of Tajikistan but inhabited primarily by ethnic Kyrgyz people. Kyrgyz used to be nomads and many still today live a semi-nomadic life, living permanently in a village and during summer in a yurt on the summer pasture, where their cattle can graze. We will start to notice Kyrgyz yurts and herds of sheep, horses, and yaks as we drive through this amazing lunar landscape towards Murghab, the center of Eastern Pamirs.
We anticipate arriving in Murghab in late afternoon.  
O/N Homestay (B,L,D)
Day 7: August 18—Langar/Murghab (250km, 4hrs)
Breakfast. Murghab (3630 m) itself has few attractions, but it will serve as our base for one night as we explore the area a little aspecially the Central market- very unusual market consist of containers, Grand mosque of Murgab, Handicraft and NGO center "Yak Youse".The 7546 m – high Chinese peak of Muztag Ata is visible to the northeast of town, 135 km away in a direct line.
Today on the way up to Karakul lake (3914m) the views of mountains and glaciers along the way today are simply breath-taking as the road takes us to the Ak Baital Pass (The White Horse Pass 4655m). This is the highest pass in the former USSR, real "The Roof of the World" and the hidden site in this expanse of arid landscape is the stunning Karakul Lake, created millions of years ago.  
O/N Homestay Erkin (B,L,D)

Day 8, August 19—Murghab – Khorog (130km, 2-3 hrs)
Bartang valley is one of the most remote and desolate stretches of the famed Pamir mountains lies within a UNESCO World Heritage Site, Pamir National park. Today we are leaving Eastern Pamir down to Western Pamir along Tanimas, Gudara and Bartang rivers. Perhaps one of the most amazing features of this region is Sarez lake, situated in the centre of the region. The lake belongs to a group of lakes formed as a result of earthquakes in 1911. 
Day 9, August 20—Khorog - Kulob (350km, 6-7 hrs)
Breakfast. Visit to the botanical garden and further transfer to Kulob city. Lunch on the way; dinner in local restaurant/ and overnight in a hotel. You may notice more conservative attitudes of local dressing style and beards, but the hospitality is just as welcoming. 
O/N Hotel Rohi Abreshim  (B,L,D)
The hotel is located in the center of Kulob city. The hotel services you with free parking lot, free Wifi, room service, showers and toilets. There is a big market near it and different places to eat.
Day 10, August 21—Kulob/Dushanbe (200km, 4 hrs)
This morning we explore Kulob. It is the city with many bearded men and very friendly locals. Today we spend time in local market and then continue to explore the city, after lunch we drive to the capital Dushanbe. 
Day 11, August 22—Dushanbe to Tashkent (1 hr flight)
After leisurely breakfast we go to the airport and catch our flight to Tashkent, the capital of Uzbekistan. We will go to the iconic sites in the city to do photography and have workshop in the evening. Today we explore Tashkent – the capital of Uzbekistan. For many travelers, Uzbekistan holds the heart of the Central Asian Silk Road. Tashkent – a Soviet-era showcase of orderly streets, museums, and monuments provides enough entertainment for the day. Tashkent is filled with treasures from the USSR as well as a diverse mix of inhabitants from all around the region. It also happens to be the home to the oldest Koran in the world – we would see the book and also the square made of Islamic Architecture. After lunch, we'll explore the rich decorations in Tashkent's famous metro system. We, then, go to the city's Amir Temur and Independence squares. There is a chance of seeing Opera or Ballet performance in the State Theatre of Opera and Ballet in Tashkent today, provided there is a scheduled event. We would have dinner in a local restaurant this evening. 
City Palace Hotel Tashkent is 500 metres from Amir Temur Square and Amir Timur Museum in the heart of Tashkent city centre. Features include an outdoor pool, indoor pool, and free WiFi. A minibar, seating area, and refrigerator are provided in each room as well as a satellite TV. City Palace Hotel Tashkent extras include an electric kettle, towels, and linen. A restaurant is on site, and luggage storage is offered at reception for added convenience. Free parking is provided. Abdulla Kodiriy metro station is 350 metres away. The hotel is also 3.2 km from Pakhtakor Stadium, 6 minutes' drive from Tashkent Botanical Garden, and 7 km from Tashkent International Airport.
Day 12: August 23—Tashkent/Urgench (flight, 1,5hrs) – Khiva (35km)
We set out the day early to catch our flight to Urgench at 7:25, and after arriving in Urgench we are met by our driver and comfortable transport to drive to Khiva. Today Khiva is the most architecturally intact and tightly packed of Central Asia's Silk Road cities. Its intense blue-and-green tilework ranks as some of the most luxurious of Uzbekistan. It also has the feel of a movie set or open-air museum city. We explore the highlights of the inner fortress – Ichan Kala and then have time for our own to wander around this fabled town. Make sure you join the tour manager for the sunset walk where you may have the chance of going on the walls, to see the town during dusk, then we walk do dinner with the group.
Overnight: Zarafshan Boutique Hotel (B,L,D)

Day 13: August 24—Khiva City Tour
Though much smaller than the Silk Road cities we are about to visit, the old capital of Khiva Khanate is home to a true architectural spectacle – Ichan Kala. It is the biggest surviving walled city in Uzbekistan with many labyrinth-like alleyways, mosques, madrassas, and bazaars. We will spend the day discovering this Silk Road stop and have the opportunity of walking on the fortified city walls for seeing the sunset from atop. For dinner and lunch, we stop in cafes to taste the authentic local dishes. 
Overnight: Zarafshan Boutique Hotel (B,L,D)
A Bride Leaves and a Bride Exits from the Pahlavon Mahmud Mausoleum
Day 14: August 25—Khiva/Bukhara on road
After morning photography, we embark on a journey through the desert of Kyzyl-Kum on road, with the backdrop of various villages, steppes, and rivers during the ride. We arrive in the holy city of Bukhara – that is hidden in the desert. En route, we pass by the river - the Oxus, that brings the waters from the Pamir mountains of Tajikistan. It happens that we are following the path of the great Oxus river too. 
Known as the Sacred city, Bukhara is one of the oldest Silk Road stops of Central Asia. The heart of the ancient Bukhara is Ark – the Royal Citadel. Although it was burned during the Bolshevik's siege of the town in 1920's travelers get to know the history from here, and so do we by visiting it. We explore the old quarter of Bukhara, to learn about the Trading Domes and Jewish Quarter. We enjoy our meal in a local restaurant to wrap up the day. 
Boutique Safiya is located in Bukhara. Featuring family rooms, this property also provides guests with a terrace. The accommodation provides a 24-hour front desk, airport transfers, room service and free WiFi throughout the property. At the hotel, each room is equipped with a desk, a flat-screen TV and a private bathroom. Guest rooms at Boutique Safiya include air conditioning and a wardrobe. A buffet breakfast is available daily at the accommodation.
Day 15: August 26—Bukhara City Tour
Bukhara is an old Silk Road city with buildings dating back to thousands of years. We'll explore the old city, marveling in the ancient mosques and the baroque brick-layered Mausoleum of Ismail Somoni, who founded the powerful tenth-century Somoni dynasty. We also visit the Poikalon Complex, which has become the symbol of Bukhara. During the day our guide will take us to meet masters of different crafts, such as calligraphy, miniature, blacksmith, and perhaps a puppet maker. We will have time to freely wander on your own, or shop for spices, silk scarves, or exquisite jewelry before regrouping for the dinner in a local house.
Elevated View of the Kalon Mosque and Minaret at Dusk
Day 16: August 27—Bukhara/Samarkand 
After a leisurely morning in the holy city, we go on to one of the holiest places in the country for locals – the mausoleum of the founder of Naqshbandi Sufi order, where we learn about the faith and their teachings. We also have a chance to see the summer residence of the last Emir of Bukhara – Sitorai Mohi Khosa. After we are back in town, we have a chance to see the local professional folklore band performing for us in a unique setting to get the best light for our photography also. We'll depart the Bukhara to arrive in Samarkand by high-speed modern train. For dinner, we'll enjoy a delicious Samarkand Shashlik – that has become a culinary favorite in Uzbekistan.    
O/N Bibikhanum Hotel 3* (B,L,D)
Situated in Samarkand, Bibikhanum Hotel has a bar and a terrace. Among the facilities of this property are a restaurant, a 24-hour front desk and room service, along with free WiFi throughout the property. Rooms include a patio with a garden view. The rooms at the hotel are fitted with a seating area, a flat-screen TV with satellite channels and a private bathroom with a hairdryer and a shower. The units at Bibikhanum Hotel have air conditioning and a desk. A continental breakfast is available each morning at the accommodation. The area is popular for cycling, and bike hire is available at Bibikhanum Hotel.​
Day 17: August 28—Samarkand City Tour
Thought to be over 2,770 years old, Samarkand was once a Sogdian trading center along the Silk Road connecting Asia and Europe. We will spend the day tracing Samarkand's extraordinary ancient history and architecture, from mosques to mausoleums to Bazaars. Registan – the central square rounded by three glorious medieval madrassas (universities). Also, navigate the street of blue-tiled mausoleums of Shahi Zinda necropolis, which is also a great location for people watching and photography. After lunch, spend time in Bazaar or walk in the colonial quarter of the city parks and see stark Soviet buildings. This evening, we visit the local family house to prepare food with the family and enjoy the delightful dinnertime.
O/N ​Bibikhanum Hotel 3* (B,L,D)
Day 18, August 29, Samarkand – Tashkent by train 
Morning train back to Tashkent and take your time to close down the trip with a final walk and then meeting with your tour manager. We will weave through Chorsu Bazaar offering good raging from crafts to dried fruits to spices and taste anything that looks tempting. This is a great Bazar for portrait photography about the region, as people are never shy to pose for a photo. After more than three weeks of adventure, packed with stories and full of new experiences we get ready to fly back home. A better-known traveller on these Silk Road some 700 years ago—Ibn Batuta said, traveling leaves you speechless, then turns you into a storyteller. We will have final dinner together and conclude the trip with a celebration.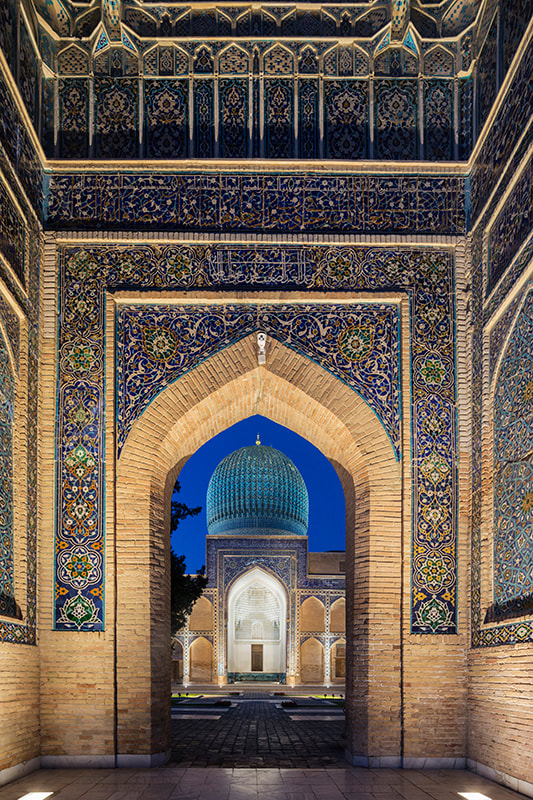 Gur-Emir Mausoleum at Dawn
Archways at the site of the Sha-i-Zinde Mausoleum
Uzbek Women at the Shah-i-Zinda Necropolis
Day 19: August 30—Tashkent Departure
After nearly three weeks of adventure, packed with stories and full of new experiences you will catch your early morning (4:00AM) flight back to Dubai. 
A better-known traveler on these Silk Road some 700 years ago – Ibn Batuta said, "traveling leaves you speechless, then turns you into a storyteller."
---
Arrival & Departure 
Arrival & Meeting Place
Arrive Dushanbe from Dubai
Departure
Depart Tashkent for Dubai on the 4AM flight
---
Visa Requirements

In order to submit an eVisa application, it is first necessary to meet the Tajikistan visa requirements:
Have a travel document

(passport) valid for at least 6 months

from the intended date of entry to Tajikistan
Supply a

current email address

at which to receive updates and notifications regarding the visa application
Provide

valid credit or debit card

details to pay the eVisa fee.
Additional visa requirements for Tajikistan for supporting documents may apply depending on the applicant's nationality.
When completing the application, it is necessary to indicate your nearest consulate or embassy of Tajikistan, as at the moment it may be necessary to attend an interview before a visa can be approved.
Once approved, the visa can be collected from the same Tajik consulate, or alternatively, on arrival at Dushanbe Airport.
An approved Tajik visa can be presented to officials on arrival at Tajikistan passport control to gain entry to the country.
At the moment, it is not possible to extend a Tajikistan tourist visa. However, a Tajikistan business visa may be extended at the Ministry of Foreign Affairs in Dushanbe.
Entry and Exit Requirements:

Are U.S. citizens permitted to enter? Yes

U.S. citizens are required to obtain a Tajik visa prior to entering Tajikistan.
In addition to receiving a visa, U.S. citizens seeking to enter Tajikistan via land border must obtain permission from the Republican COVID-19 Task Force in advance. Please contact the nearest Embassy of Tajikistan for more information.
Due to COVID-19 restrictions, land borders may be inaccessible to travelers without notice.
Is a negative COVID-19 test (PCR and/or serology) required for entry? Yes
All travelers must show results from a negative COVID-19 PCR test issued within 72 hours of arrival. Test results are verified before passengers are allowed to board flights to Dushanbe and again upon arrival in Dushanbe.
Are health screening procedures in place at airports and other ports of entry? Yes
All travelers may be subject to PCR testing at the airport upon arrival. Travelers will provide contact information and be allowed to leave the airport. If the result is positive for COVID-19, travelers may be transferred to a government quarantine facility.
Travelers will not be permitted to leave the country if their visas have expired. Please check your travel documents to ensure that your U.S. passport and Tajik visa are valid. For questions regarding Tajik visas and visa extensions, please contact the Main Consular Department of the Ministry of Foreign Affairs at 227-6363 or 227-3838 located on 34 Pushkin Street, Dushanbe.
---
In order to successfully apply for and obtain an Uzbekistan eVisa, foreign nationals must meet certain requirements. Firstly, applicants are required to be citizens of an eligible country, as described in the Uzbekistan visa policy. When completing the Uzbekistan eVisa application form, international travelers must provide the following items:
Valid passport issued by an eligible country
Digital copy of the passport data page
Digital copy of a passport-sized photograph
Active email address to receive the approved eVisa
Method of payment (credit or debit card)
Travelers are advised to apply for an Uzbekistan eVisa a minimum of 3 days before they intend to travel to the country.
The approved eVisa for Uzbekistan is sent to the email address provided in the application. The traveler should print it and present it at border control when arriving in the country.
The passport used to complete the application must be presented when entering Uzbekistan.
If this passport is lost, stolen, damaged, or made invalid in any other way, the individual must apply for a new Uzbekistan eVisa with their new passport.

Covid Update for Uzbekistan
Last update: 18 March, 2021
All passengers must obtain a medical certificate either in English or Russian with a negative coronavirus PCR test result issued a maximum of 72 hours before departure (with the exception of children under 2 years old).
---
Average Weather in August
Average high temperature in August: 15°C. Warmest months (with the highest average high temperature) are July and August (15°C). The month with the lowest average high temperature is January (-14°C).
Average low temperature in August: 2°C. Months with the highest average low temperature are July and August (2°C). The coldest month (with the lowest average low temperature) is January (-24°C).
July and August are the hottest and driest months of the year in Uzbekistan, with temperatures in the mid to high 30sºC (above 80ºF). 
8 SPOTS OPEN
Tour cost: $7,200
DeposiT: $1,000

Single: $650
(for a group of 6-7 there will be a $800 supplement)
Dushanbe - Tashkent International Flight worth $190 USD p/p 
Tajik Visa: $55 & Pamir Special Permit: $20 (your tour operator will take care of the arrangements).
TOTAL EXTRAS: $265
---
Tour Price Includes
Accommodation as listed 
Comfortable transport from start to finish
English Speaking Tour Manager from start to finish 
Tajik Speaking Guide from Tajikistan
48 meals (19 breakfast, 13 lunches 16 dinners)
Special photography opportunities as shown in the program  
Domestic flight in Uzbekistan
Three high speed train journeys
Drinking water thoughout the trip
Snacks for the long rides
Folklore with traditional costumes in Tajikistan and Uzbekistan  
Private access to the minarets, rooftops for photography 
Photography persmission in all sites as we visit in Uzbekistan/Tajikistan 
Visa support for Tajikistan and Oficial Paper to travel to Pamir  
Tour Price Excludes
Incoming and outgoing international flights
Tips for drivers and tour managers, 
Tajiks Visa worth $55USD and Pamir Special Permit $20USD
Personal Expenses (such as alcohol drink, laundry)
Dushanbe - Tashkent International Flight worth $190USDp/p (business class could be upgraded for additional $250USD)

---
Paying by check
If you would like to pay your deposit and/or balance with a check, please make the check payable to: Pixelchrome, Inc and mail it to:
Nicole Woodhouse
Pixelchrome, Inc, 
605 Rouen Drive, 
McKinney TX 75072
Paying by Wire Transfer
If you would like to pay by Wire Transfer please contact nicole@pixelchrome.com for bank account details.
---