ETHIOPIA—OFF THE BEATEN TRACK


7-20 SEPT, 2021

with Jeremy Woodhouse & Herb Leventon
Maximum group size 8
Camel Caravan in the Danakil
The logistics of this trip are complicated—we are totally committed to making this trip as undaunting as possible, but on a trip such as this things do not always go according to plan. A private charter will fly us from northern Ethiopia to a landing strip in the Omo Valley. Excellent physical health is needed as we will be in a zone where temperatures are high, the sun is strong, and the terrain is rough. We will be camping for 7 nights in tents with cots and mattress pads, and there will be solar showers and pit toilets. If you can't do without your creature comforts, think twice before registering. A positive attitude and a sense of humor is needed on this Ethiopian adventure. It will be an amazing trip. 
Danakil Depression | Environment-Cultural Photography
In the Afar region of northern Ethiopia, lies a vast, tortured, desert plain called the Danakil. It lies about 410 ft (125 m) below sea level, and is one of the hottest and most inhospitable places on Earth— temperatures average 94 degrees Fahrenheit (34.5 Celsius). Numerous sulphur springs, volcanoes, geysers, acidic pools, vast salt pans, and colorful mineral-laden lakes dot the area. Volcanic activity heats spring water, bringing sulfur and iron to the surface, leaving behind yellow, green, and orange deposits. For centuries, locals have been trekking in with camel caravans to mine the salt by hand. The volcano, camel caravans and geological formations will all be subjects of our photographic experience.
NB. Anyone in a good state of health, being reasonably fit, with an open mind, not worried about creature comforts, and a big sense of adventure, will be awed by this travel/photographic experience. That said, the camping will be very basic with minimal facilities, and at times, especially when at Erta Ale, the temperatures may be very hot. The Erta Ale Volcano trek is not technically demanding but it will be undertaken partially at night (so it will be possible to see the molten lava) when the temperature is lower but still in the late 80s. You must be able to cope with extreme heat – come and try Texas in August.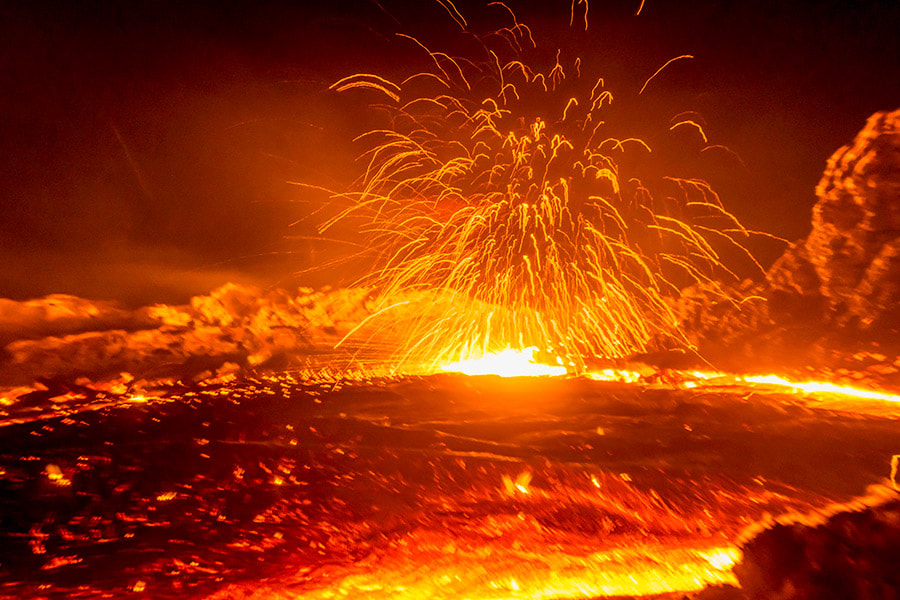 Simien Mountains | Landscape/Wildlife Photography
The roof of Africa – a mystical world of primeval forests, misty peaks, bizarre plants and exotic creatures. Photographing these stunning highlands is like stepping into an otherworldly paradise. The landscape is mesmerizing. Steep ascents lead to lush plateaus populated with giant lobelias – freaky fleshy-leaved plants growing to 9 feet in height. Escarpment vistas are filled with sheer cliffs, plunging waterfalls, and rocky turrets spiking out from the forested valleys below. Ribbons of mist drift over the ground. Vultures and ravens cruise the skies. In the highlands is a rare and exotic cache of wildlife – the Gelada baboon (aka 'bleeding heart baboon'), the elusive Ethiopian wolf, the majestic Walia ibex and the giant Lammergeier a bearded vulture with a 9 foot wingspan. The group will photograph both the endemic wildlife and the beaautiful landscape. We will be lodging high in the mountain at the Simien Lodge where the view is amazing and the air is fresh and crisp.
Lammergeier (Bearded Vulture)
Omo Valley | Cultural Photography
We will travel by boat to visit tribes along the shore of the meandering Omo River. At night we will camp in tribal villages. Located in the far southwest of Ethiopia is the Omo Delta, one of the last great tribal regions left in the world. Living in this remote area are a number of tribal groups that live a traditional lifestyle based on the seasons and the movement of the sun. Living in voluntary isolation, their culture, dress and language has remained intact. To anthropologists, the Omo Valley is a living museum; to photographers the Omo Valley is a visually breathtaking experience.
The Mursi are known for the clay lip plates that the women insert in their lower lips. The Kara are highly decorated with chalk. The Nyangatom men are tall and have scars to indicate their bravery. The Dassanech women adorn themselves with bottle caps, old metal watch bands and pins through their lower lips. Photographic opportunities range from documenting the daily life of the tribes, portraiture, scenic shots as well as the opportunity to enhance one's compositional skills. ​
---
Itinerary 
Day 1: Sept 7 | Arrival in Addis Ababa
Upon arrival from your international destination, you will be met by our representative and transferred to the Jupiter Hotel which is fifteen minutes away. The hotel has internet, a nice lounge area, good restaurant, wonderful staff, a money exchange, and is a comfortable place to start the trip. The group will have a meet and greet dinner that evening.
O/N ​Jupiter International Hotel
Located in the culturally rich capital city of Addis Ababa, the Jupiter emanates the true spirit of Ethiopian tradition and hospitality
Day 2: Sept 8 | Addis/Semera/Erta Ale Volcano
The group will take the 7:00am flight to Semera in the far North-East of Ethiopia and arrive at 8:20AM. Once there, we will be picked up from the airport and have breakfast. Our crew of drivers, cooks, helpers and an experienced local guide will meet us. We will drive from Semera to Dodom the start of the Danakil Depression. After 140 miles around 3 hour drive we will stop in Afrera village to have a picnic lunch next to the beautiful salty lake and hot springs.
After the lunch break drive pass by the village of the chief of the Erta-Ale volcano here the team will arrange local security guard and camels for our logistics. Here passing through changing landscape of solidified lava, rock, sand and occasional palm lined oasis. The newly make road is good and we will have experienced drivers. After we pass several small hamlets scattered in this desert, we will arrive to our base camp around 3 miles from Erta Ale. We will have opportunities to get out of our 4x4's to photograph the local Afar people who live in this barren landscape.
The Afar People also known as Adal, Teltal and Danakil are Cushitic-nomadic people located in the East African countries of Djibouti, Somalia, Ethiopia, and Eritrea. They prefer to be known as the Afar, since the Arabic word "danakil" is an offensive term to them. They are a proud people, emphasizing a man's strength and bravery. Prestige comes, as it always has, from killing one's enemies. The Afar people are warrior tribe and are very good at using knives and daggers in a warfare. They love their culture and respects their laws.
After an early snacks and coffee break, starting around 5:00pm we will begin our trek up to the Erta Ale Volcano which will take approximately 1 hr. Here we will have a chance to photograph the landscape over sunset. It is crucial to stay hydrated and the path covered has an elevation gain of 1,800 feet. Camels will transport our camping gear to the rim of the volcano, where we will spend the night watching the dramatic action of the boiling lava on this Mars-like landscape. Sparks fly, the molten lake of lava is fiery red and is in a deep hot cauldron of bubbling basalt and burning rivulets—a truly amazing photographic opportunity.
 O/N Camping Erte Ale
Day 3: Sept 9 | Erte Ale Volcano/Afrera
At sunrise we will photograph the volcano once again. If you have a drone this will be a great place to use it. After the trek back to our 4x4's we will have breakfast and drive to Lake Afrera. This is a volcanic salt water lake located more than 300 feet below sea level fed by underground streams. It is one of the deepest depressions on the planet. It is possible to take a dip in the water and you will float and not sink. It is a natural wonder. The salt water is pumped into large tanks and after the water evaporate a crust of thick salt remains. The salt is raked up and deposited in large colorful bags and then trucked away. We will photograph the salt workers both at work and in their rudimentary shacks as well as in Afrera town.
O/N Camping in Afrera
Day 4: Sept 10 | Afrera/Hamedella
Today will be spent photographing the camel caravans. The animals, accompanied by donkeys and mules transport the salt extracted by the Danakil miners. The job is passed down from father to son and is done with primitive tools. The salt blocks are cut into strips and packed on the animals. We will photograph Lake Asela, which is a largely dry expanse of salt plains. In this striking area the minerals, sulfur, acid and salts give the land and water bodies vivid and intense colors. It is a surreal scene. Wildlife in the area may include ostriches, endemic Archer's lark, Arabian bustards. 
Lunch will be in Abela which is an important trading center for goats and meeting place for the Afar people.
O/N Camping in Hamedella
Day 5: Sept 11 | Hamedella/Dallol/Mekele
This morning is reserved for photographing the irregularly formed salt deposits and colorful acid ponds south of Dallol. If you step in the ponds the bottom of your shoe will melt off due to the acidity of the water. We will also encounter salt workers and be able to get to hear their tales and photograph them. The Dallol region of Ethiopia is a cauldron of burning salt, volcanic rock and sulfuric acid and is officially the hottest place on the planet. Dallol is located in northern Ethiopia, on the border with Eritrea, and inside a geological formation called the Afar (Danakil) Depression.
Continuing on to the Mekele airport our flight will depart at 7:15pm and we will arrive in Addis by 9:00 
O/N ​Jupiter International Hotel
Day 6: Sept 12 | Fly to Gondar and Drive to Simien Park
After an early breakfast we will take the 7:10am flight to Gondar arriving at 8:15am.
Here we will meet the local team and drive to the Simien Mountains which is three hours away. It is here that we will photograph landscape and wildlife. The group will be staying at the Simien Lodge which is both comfortable and has an amazing view. In the afternoon we will trek along the ridge line and photograph the endemic Gelada Baboons which will be within arms length. It will be a short trek of approximately one mile with both landscape and wildlife photography.
O/N Simien Lodge
Day 7: Sept 13 | Simien Lodge/Ayna Meda/Chennek/Simien Lodge
Today we will have the chance to photograph the Ethiopian wolf, Walia ibex and the Gelada Baboons. The views are the best in the Simien Mountain range and we will be at 12,000 feet altitude. The 360 view is extraordinary. We will be passing bizarre outsized lobelia plants, grasslands and rocky cliffs. The total amount of walking time will be around 2 miles and we will return to the lodge for lunch and have free time for the rest of the day. This is a nature lovers paradise.
O/N Simien Lodge
Day 8: Sept 14 | Simien Lodge/ Dus Village
After an early morning photography opportunity we will return to the Simien Lodge for breakfast. Departing the Simiens by 8:30AM we will drive to the Gondar Airport. A 12-seat, privately chartered plane will take us deep into the Omo Valley to a grass landing strip where our team will meet us. The one hour drive will take us to Dus, the friendliest villages of the Kara tribe. Settled on the banks of the Omo River, this tribe is known for their creative and decorative body chalk painting. Many of the Kara women have pierced lips and insert nails and pins. Photographing on the bank of the Omo River can yield images of the kids diving into the water, portraiture and we will shoot a cattle and goat drive. The dust will be swirling, men with guns and long herder stick driving their herd to the water will be photographed. The group might have the opportunity to photograph the ceremonial, communal dance performed by the people of Dus. 
O/N Camping in Kara Village

Day 9: Sept 15 | Boat: Kara Dus/Mursi Tribe Labuk
Today we will begin our boat trip on the Omo River. Crocodiles lurk in the dark brown water, the shore line will yield small encampments of men from various tribes fishing with spears. Our goal is to reach a seldom visited Mursi village. The Mursi are tall and have a striking appearance. Both men and women keep their hair short and shave designs into it. Many of the women wear lip plats and ear plugs. The men wear blankets tied over a shoulder and have long sticks.  
Photograph women grinding sorghum and breast feeding while making their coffee which they drink out of a gourd is possible. The homes are thatched straw and sticks and the Mursi are nomadic. Patience and a sense of humor are important when visiting the Mursi.
After the visit and an intensive photo shoot we will boat to the little visited Kara Labuk village. By car it is difficult to reach and so few travelers make it here. The Kara in Labuk welcome travelers and many of the men have white chalk designs on their legs and the girls love to paint each other. The Kara in Labuk are very traditional and peaceful. The word Kara means fish in their language. Our team will set up our tents and prepare dinner for us as we wander independently and photograph at will
O/N Camping in Labuk Village
Day 10: Sept 16 | Boat: Labuk/Nyangatom Village
After an early breakfast we will pack up our gear and get back on our boats. This morning
we will be heading to Nyangatom tribe villages along the Omo River. The elders of both sexes wear a lower lip plug, the men's made of ivory and the women's from copper. The young girls wear goatskins and the Nyangatom women brightly colored multi strand beads around their necks. Many of the men have scars on their upper bodies which signify they killed a wild animal or enemy. They practice flood irrigation as it is impossible to raise livestock along the river due to the tsetse fly. 
O/N Camping in Nyangatom Village
Day 11: Sept 17 | Boat: Nyangatom Tribe Village/Dassanech Tribe Village
The Dassanech are the most southerly ethnic group in the Omo Valley. The name Dassanech means people of the delta despite the fact that they live in an incredibly dry region. In appearance the women wear clothes made from leather and the men sarong-like garments. The women also wear western cast-offs like broken watch bands and bottle caps. The men spear fish crocodiles and raise cattle. This tribe has poor relations with others as resources are scant. We will float along the Omo and with the help of a local guide navigate to a village that will welcome us for a photography experience.
O/N Camping in Dassanech Village
Day 12: Sept 18 | Boat: Dassanach Tribe/Drive to Turmi
After an early morning photo shoot in the village we will witness the women making fires for coffee, the men overseeing their herds of animals, and the many kids scampering around and trying to stay warm by the fire. The kids will be wrapped in blankets as they crawl out of their tin structures. We will then boat to Omerate where our vehicles will meet us and take us back to our lodge in Turmi. The afternoon will be free to relax.
O/N Paradise Lodge Turmi
Day 13: Sept 19 | Turmi/Jinka/Addis Ababa
Today we will fly back to Addis Ababa departing Jinka at 1:30 and arriving in Addis at 2:45pm. Lunch will be at a local restaurant in Jinka that has always been a group favorite. Once back at the hotel it is certain that long hot showers and strong alcohol will be called for. Those leaving on late night flights will be driven to the airport. 
O/N ​Jupiter International Hotel​
Day 14: Sept 20 | Addis Ababa/Homeward Bound
Photographs taken, friends made, tales to tell...
---
Arrival & Departure 
Addis Ababa Bole Airport where you will transfer to the Jupiter International Hotel. Jupiter International Hotel Bole, African Avenue, Bole, Addis Ababa, Ethiopia
Tel: +251 11 661 6969
You will be transferred from the Jupiter Hotel to Addis Ababa Bole Airport on Day 14 | 23 Sept unless you have made other arrangements.
Ethiopian Online eVISA Application
All foreign visitors traveling to Ethiopia require valid travel authorization to enter the country. All eligible applicants may apply for an eVISA application online to visit Ethiopia for touristic purposes. Applicants will need to complete the online eVISA application to receive an approved Ethiopian eVISA.
The Ethiopian Tourist eVISA was launched by the Main Department for Immigration and Nationality Affairs in Ethiopia in June 2017. The eVISA for Ethiopia authorizes the citizens with passports valid for at least six (6) months from arrival date to Ethiopia to apply for a tourist eVISA online. Once issued, the Ethiopian eVISA is valid for 30 or 90 days depending on the applicant's selection.
---
Weather
Danakil/Afar Region: Historic averages are High 94°, LowF/81°F
Simien Mountains: Historic averages are High 76°, LowF/47°F
Omo Valley Region: Historic averages are High 69°, LowF/55°F
Language
Amharic is the official national language of Ethiopia. English, Arabic, Italian and French are widely spoken by many Ethiopians. The Ethiopian languages are divided into four major language groups. These are Semitic, Cushitic, Omotic, and Nilo-Saharan.
Currency
The Ethiopian Birr is the currency of Ethiopia
Members of the Suri Tribe Dancing, Dus
6 SPOTS OPEN
Tour cost:
$9,950


DeposiT: $1,500
Single:

$650
---
Tour Price Includes
All meals on full board and bottles of mineral water throughout the trip
All of the transfers from/to the airport/hotel
All of the parks fees and photography fees
All taxes.
Internal flights
All meals/cold drinks/coffee/water
Hotel porters
Single tent occupancy
Gratuities to local guides 

Tour Price Excludes
International flights, visa upon arrival
Trip insurance (required)
Emergency evacuation
Alcoholic beverages
Laundry service
SIM card
Gratuities to driver/main trip guides
---
Paying by check
If you would like to pay your deposit and/or balance with a check, please make the check payable to: Pixelchrome, Inc and mail it to:
Nicole Woodhouse
Pixelchrome, Inc, 
605 Rouen Drive, 
McKinney TX 75072
Paying by Wire Transfer
If you would like to pay by Wire Transfer please contact nicole@pixelchrome.com for bank account details.
Equipment Checklist
Bring you own laptop computer and storage media
Camera body(s)
Lenses, 16-35mm, 24-70mm zoom and 70-200mm zoom or similar lenses are very good
Light bag for easy hiking with camera bodies and accessories
Cleaning kit for cameras and lenses
Rain/dust covers for cameras and lenses
Charger for batteries
Spare batteries
Spare Memory cards
Memory card reader
USB key to exchange images
Also good to have
Tripod
Lens extenders
Graduated filter set
Filter holder
Good quality polarizing filter