HALDI TURMERIC FESTIVAL & KUSHTI WRESTLERS
16 - 20 OCTOBER, 2022

with Jeremy Woodhouse & Abhishek Hajela
(5 days/4 nights), maximum group size 6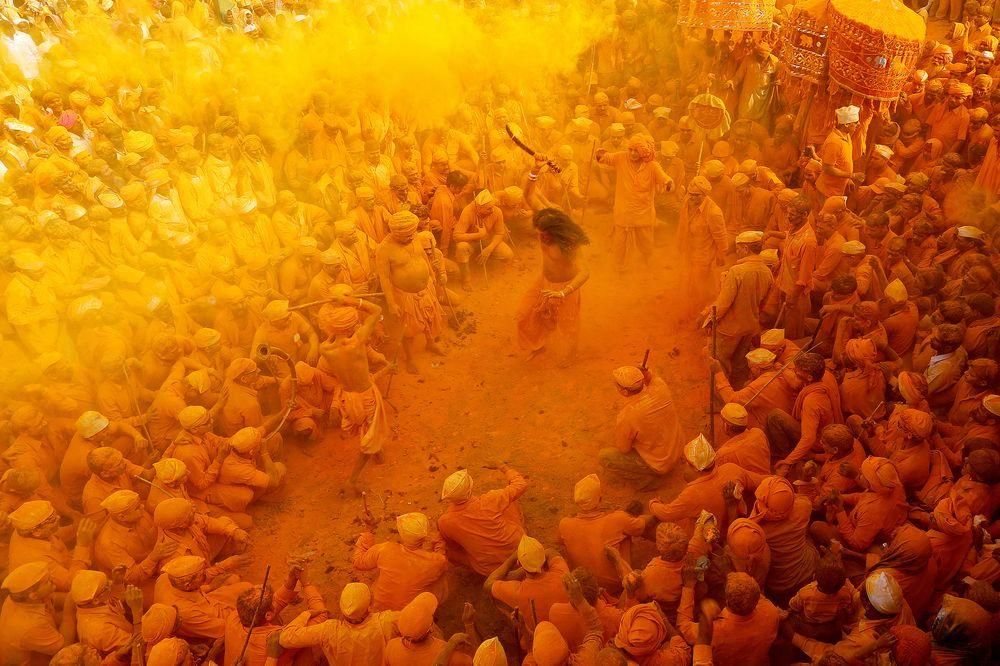 Kushti Wrestlers
Kolhapur has a long history of kushti (wrestling) and has produced many noted wrestlers. The sport flourished during the reign of Chattrapati Shahu Maharaj (ruled 1894–1922), remembered for being a progressive ruler who brought about many social reforms. During this golden age, Shahu Maharaj built akharas all over Kolhapur and organized wrestling tournaments, inviting legendary wrestlers from across undivided India. Since then, Kolhapur's wrestling culture has been dominated by Gangavesh Akhara, Shahupuri Akhara, Motibag Akhara and New Motibag Akhara. In each of these akharas, more than 70 wrestlers undertake taleem, or training. Hence, the akhara is colloquially, also known as taleem.

Haldi Turmeric Festival
During this time of the year, the city also offers a very unique festival for us to witess and photograph. Every year for four days, the village of Pattan Kodoli, in Maharashtra's Kolhapur district, turns yellow with clouds of turmeric. Such is the festival of Vittal Birdev Yatra, which marks the birth anniversary of the community's deity, Vittal Birdev Maharaj. This year, the celebrations last from October 17 - 20, with men, women and children showering each other in turmeric.
The highlight of the festival is a 'baba', who arrives at the village to make predictions about the forthcoming farming and weather conditions for the village. The baba, Sri Keloba Rajabau Waghmode, hails from the Anjungau village in Solapur district. He walks on foot for 17 days from his village to reach Pattan Kodoli, where he is welcomed with huge umbrellas, and a musical procession. He sits under a banyan tree and has people anoint him with turmeric and dry coconut powder.
On the second day, he enters the Shri Vittal Birdev Temple. As the beats of the drums pick up, he dances, and makes his predictions in Kannada, which is then translated into Marathi by the temple priest. On the fourth day, the festivities draw to a close and the baba starts his journey back to his village.
---
KUSHTI WRESTLER WORKING OUT WITH WEIGHTS, KOLHAPUR, INDIA—PHOTO © JEREMY WOODHOUSE
---
16 Oct: Fly from Bangalore to Kolhapur or Pune (depends on the connection)
On our arrival, we will be met by our local guide and we will be taken to our hotel to relax before the activities of the next few days
O/N Kolhapur
After an early start we will drive to one of the most famous Kushti akharas (gym) where we will watch the wrestlers exercising in their traditional space as the sun is rising casting beams of light through the door. In the afternoon we will visit another akhara which will give you a different perspective.
O/N Kolhapur
18 Oct: Kolhapur - Jejuri
Turmeric festival at Pattan Kodoli Village
O/N Kolhapur

19 Oct: Kolhapur - Jejuri
Turmeric festival at Pattan Kodoli Village
O/N Kolhapur

20 October: Pune - Mumbai
Drive to Pune and fly back to Mumbai for international connections. Your rooms are booked till your departure. Later in the evening you will be transferred to the International Airport to board your flight back home.
---
Average Weather in Maharastra in
Average Weather in October in Mumbai India. Daily high temperatures increase by 3°F, from 89°F to 92°F, rarely falling below 85°F or exceeding 96°F. The highest daily average high temperature is 92°F on October 29.
October, the first month of the post monsoon autumn, in Kolhapur, is a tropical month, with average temperature ranging between min 21°C (69.8°F) and max 30°C (86°F).
3 SPOTS OPEN
TOUR COST: $TBA
EARLY INTEREST DEPOSIT: $100 (NON-REFUNDABLE)
SINGLE: $TBA
Group size: 6
Tour Price Includes
Accommodation as listed

Comfortable transport from start to finish
English Speaking guide from start to finish
Special photography opportunities as shown in the program 
Drinking water thoughout the trip
Tour Price Excludes
Arrival/departure flights
Tips for drivers
Personal expenses (such as alcoholic drinks, laundry)
Travel insurance​
Pre- and post-tour accommodation
---
Paying by check
If you would like to pay your deposit and/or balance with a check, please make the check payable to: Pixelchrome, Inc and mail it to:
Nicole Woodhouse
Pixelchrome, Inc, 
605 Rouen Drive, 
McKinney TX 75072
Paying by Wire Transfer
If you would like to pay by Wire Transfer please contact nicole@pixelchrome.com for bank account details.
---
Equipment Checklist
Bring you own laptop computer and storage media
Camera body(s)
Lenses, 16-35mm, 24-70mm zoom and 70-200mm zoom or similar lenses are very good
Light bag for easy hiking with camera bodies and accessories
Cleaning kit for cameras and lenses
Rain/dust covers for cameras and lenses
Charger for batteries
Spare batteries
Spare Memory cards
Memory card reader
USB key to exchange images
Also good to have
Tripod
Lens extenders
Good quality polarizing filter